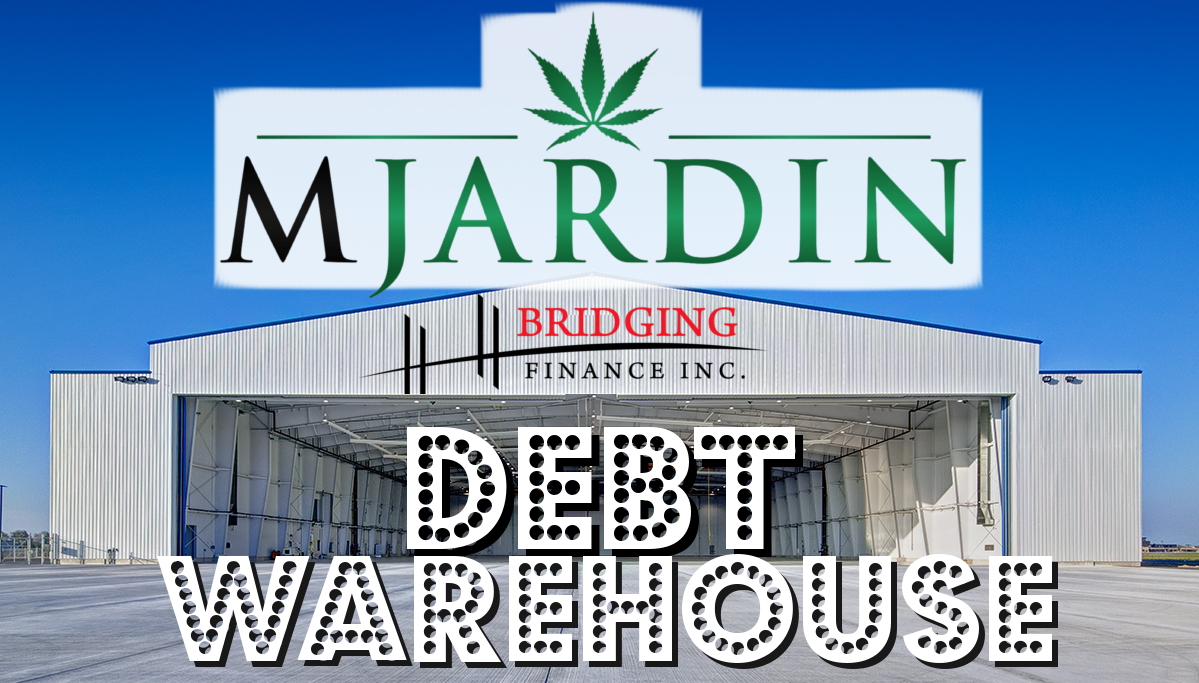 MJardin: a warehouse of transitional financial debt
The Deep Dive has identified MJardin Group (CSE:MJAR) as one of three Canadian cannabis companies to which insolvent commercial lender Bridging Finance is known to have lent. No full picture of Bridging's borrowers is available, with key parts of the Ontario Securities Commission's submission to Bridging's pending receivership having been redacted. This post is part of an ongoing series on Bridging and his associates such as Gary Ng.
MJardin Group (CSE: MJAR) Shares listed on the CSE last traded at $0.01 and are currently halted. But, in 2018, it was a promising player in North America's emerging cannabis industry; an operations consultant who had recurring income from managing operations in Colorado and Nevada. It wasn't a LOT of revenue (US$12.5 million in the nine months ending September 30, 2017), but it was enough for a small net profit (US$1.8 million in that time) and a team that knew how to deliver cannabis business success was worth something in 2017.
Like any self-respecting 2018 cannabis company, MJardin was putting a stake on slivers of the developing cannabis market on both sides of the border. He was going to acquire Buddy Boy Brands, a cannabis property in the United States, and also had plans for Manitoba's late-stage AMCPR candidate Grand River Organics.
Bridging Finance lent him C$32 million to buy Buddy Boy Brands and another C$5.5 million to buy Grand River.
High-risk borrowers are charged high rates. In this case, premium +10.8%, accumulating daily and compounding monthly. That's a lot of juice, and it wouldn't be realistic for a lender to expect MJardin to pay it cash at regular intervals. But Bridging, innovative capital engineer that they are, gave MJardin the option of paying part of the interest (4%) in kind (by issuing shares). As the debt grew, they also allowed payment in kind (PIK) via accruals added to the principle.
Buddy Boy Brands had $16.2 million worth of promissory notes outstanding admissible, paying interest at 20%, so half was a wash. No word on who Buddy Boy loaned that money.
The Nevada operations MJardin consulted for was called GreenMart, and it appeared the company was still in the process of acquiring the business. One of those deals that is going to happen anytime now, just waiting to clear some of the company's debt (with a stock issue), transfer the license, etc.
MJardin returned to Bridging in August 2018 for an additional $15.3 million for a GreenMart-related U.S. property acquisition, and it all rounded up to $41.2 million in unpaid debt. The loan covenants all state that Bridging gets its money first if MJardin is taken over, or if it suffers a liquidity event and in that context Bridging starts to look like another garden variety bettor at the dice game of cannabis. The difference, of course, is that this shooter found a way to clone its chips.
Bridging loaned MJardin an additional $8.1 million in November 2018 to fund a vaguely defined US stock acquisition tied to GreenMart, and has been busy north of the border in earnest.
Grand River Organics had been merged into a group of companies called "GrowForce," which MJardin purchased in November 2018 in an all-stock deal with a face value of $102.8 million. Of course, building a facility costs money, and Bridging wanted to help them with that. MJardin was short on things to borrow, but Bridging CEO David Sharpe is nothing if not a problem solver.
Daniel Tourangeau, who is leading the Ontario Securities Commission's investigation into Bridging, was told by MJardin CEO Rishi Gautam that Sharpe introduced him in the spring of 2018 to a Sean McCoshen, who was made available as a personal guarantor for the GrowForce loan. Security was to be provided for a nominal fee, payable at a later date. In Gautam's account, he didn't like the idea at first, but was persuaded by McCoshen and Sharpe. When McCoshen began seeking full payment of his $10 million guarantee fee (now!), Gautam did the reasonable thing and borrowed the $10 million to repay McCoshen to Bridging, who was happy to adapt.
In Q4 2018, MJardin had borrowed $90.23 million from Bridging to fund the acquisition and expansion of GrowForce…and to service $96.6 million in current liabilities that GrowForce had at the time of the acquisition. 'acquisition. The portion of these liabilities that constituted an unpaid debt to Bridging or any other person is unknown.
A growing stack of outstanding loans to a borrower with a flat or declining income profile, no real assets and a rapidly declining stock price would put your average lender in a slump, but Bridging didn't seem bothered. He granted extensions and allowed payments to be made as accruals. As the balance became a larger MGarden liability, it also grew as a transition asset.
Accrued interest counts as income for Bridging, and every dollar of this extended IOU stored on MJardin's books is another dollar in Bridging's net asset value, which must show growth from its previous annual high for the general partner is eligible for the 80/20 fraction of income he earns as a performance bonus.
When it all came due in 2019, Bridging made some changes to the structure and lent them some extra money. When the dust settled, MJardin owed Bridging $149 million in April 2021 and didn't have to start making monthly payments of $1.7 million on interest and principal until July 2020.
In 2019, the company recorded $20 million in interest expense, even though it only recorded $26 million in revenue. Adjustments recorded in the cash flow statements indicate that $16.6 million of this amount was interest paid in kind.
On the last day of 2019, MJardin was able to repay $27.7 million of Bridging's debt with proceeds from the sale of GreenMart to another Bridging borrower Harvest Health – more about that later.
With the demise of GreenMart, revenue from US operations fell from $8.9 million in Q1 2019 to $2.2 million in Q1 2020. MJardin did not have $1.7 million in income most months, so blowing that $1.7 million payout in July 2020 was a foregone conclusion, but Bridging was pretty cool about it. They extended covenants and allowed interest payments to accrue until maturity…and were even kind enough to extend MJardin, newly deprived of its greatest source of income, additional credit.
The balance remained a current asset until it passed its due date without slowing down. The Notice of Demand issued by Bridge Receiver PricewaterhouseCoopers on March 16, 2022 calculated the outstanding debt at $177,393,579.38. On March 23, a judge appointed Restructuring of KSV be the receiver of MJardin. PwC, presumably, was unable to take the case due to the inherent conflict of being the registered receiver in the ongoing receivership of MJardin's largest secured creditor.
It's hard now to consider that the company was ever just a stopover for Bridging unitholders' money on its long journey into oblivion, and there are many more MGardens hence the one it came. These loans are among sixty outstanding loans that were on transitional records when PwC receivers unraveled them in April 2021. Forty of these loans were under review, eight were owed by borrowers who were insolvent or in the process of being sued. in insolvency, and six had an ongoing factoring arrangement.
We have limited information on the details of these debts, the very Tourangeau's detailed affidavit having been redacted in court filings to remove exhibits showing who borrowed all that money, but $98 million (on paper) was briefly owed by Gary Ng.
Stay tuned…
---
Information on this story was found via The Globe and Mail, BNN Bloomberg, Sedar and the other sources mentioned. The author has no security or affiliation related to this organization. Opinions expressed herein are solely those of the author. Not a buy or sell recommendation. Always do additional research and consult a professional before purchasing a title. The author holds no license.
Braden Maccke is a writer from British Columbia, the only member of The deep diveof the west coast contingent.