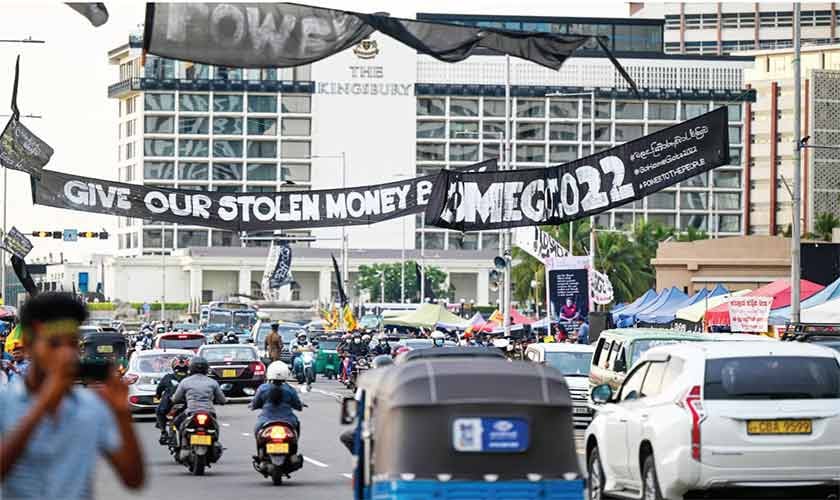 OWe are aware that Sri Lanka has no fuel, food and medical supplies. Critical medical surgeries are being canceled and daily power cuts unfold for long hours, with large-scale protests by ordinary citizens on the streets of major cities crippling the business activities and routines of many.
The question is why didn't China come to save or bail out Sri Lanka if it really wanted to become the regional superpower?
Remember that China has already taken over Sri Lanka's deep-water port on a 99-year lease due to Sri Lanka's default on its debt repayments. Was China interested in acquiring more strategic assets from Sri Lanka or was it because it had already taken its port and had no other strategic interests there.
A visible but simple comparison is made in this article to help understand where we are and what Pakistan should do to avoid worsening the external debt crisis. Please note that Sri Lanka has a debt to GDP ratio of 111% and Pakistan has a debt to GDP ratio of 82%.
Sri Lanka had political movements internally and it held elections for regime change as mass political street movements were seen, and the new government promised to cut taxes and offer subsidies to the population. The governance structure was weak with many loopholes for corruption. Foreign remittances were down and imports of luxury items were at a high level, putting excessive pressure on the current account deficit (CAD), widening the balance of payments gap.
International credit agencies and economic experts had already pointed out that this was unsustainable. On top of that there were huge unproductive expenses, including the cost of holding elections. However, emotionally charged people did not pay much heed to the consequences despite Sri Lanka's literacy rate of over 92%, which is nearly double Pakistan's literacy rate.
Rising CAD, high inflation along with lower tax rate to GDP and no fiscal measures taken by their governments, added to the fact that China did not show up for help, the Sri Lankan rupee devalued and lost its purchasing power. Foreign investors have also fled the country for many reasons, including currency devaluation ($1/320 Sri Lankan rupees) and risk of credit default.
As obvious and unfortunate as it may seem, some similarities are accumulating in Pakistan as well. Like rising CAD, falling foreign remittances, low or no foreign direct investment (FDI), foreign portfolio investment (REIT) and Chinese lending. Despite the claims and the crucial three week time lapse, China has not provided any assistance nor has it renewed its almost $3 billion deposit/debt, despite its assurances and repayment. The Rupee is weakening, the political momentum for immediate new elections is building, inflationary pressure is mounting, and the slowdown in economic activity is also slowing GDP growth.
China has spent heavily to build the infrastructure of the China-Pakistan Economic Corridor (CPEC). The expenditure is a foreign currency debt which no longer in Yuan but in 14 billion dollars. China's total dollar debt to Pakistan, including the safe deposit, was about $18 billion, or nearly 20% of Pakistan's total external debt. Moreover, China has increased its exports to Pakistan in many areas, including technical or military assistance, just as it had done with Sri Lanka.
It is strongly recommended that our political parties (including those in government and those on the roads), as well as the emotionally charged public, business owners and overseas Pakistanis take careful proactive measures for the benefit of Pakistan's future and sovereignty.
These measures include:
Drastically reduce the import bill
Responsible use of petroleum and conservation of energy and other resources
Stopping the use and importation of luxury items for the next few years
Make efforts to export to Europe and America, and seek other markets for our products
Growing IT services and textile exports, and harnessing the huge opportunity as the world seeks alternative supply chains away from China and Russia
Incentivize Pakistanis abroad to send remittances and invest in Pakistani bonds/sukuks and Roshan digital accounts to earn higher dollar yield on term deposits
Mentally accepting that lowering taxes for the next few years will not be in Pakistan's interest
Lobby federal and provincial governments to cut spending, i.e. take tax action
Lobby the government not to overspend on building new infrastructure and unproductive programs in the next few years
Lobby all political parties to overlook differences and bring harmony among themselves to help people and businesses survive in this difficult time of record high inflation around the world
All Pakistanis should think rationally and not pressure the current government to make popular but reckless policy decisions, as Sri Lanka has done, such as lowering prevailing tax rates and extension of untargeted subsidies, as well as unnecessary expenditure, including the holding of new elections, that too before the expiration of the mandate, etc.
These decisions can lead to additional financial pressure and divert people's attention from creating business and economic activities.
The economic crisis has been seen to deepen and deepen in the tenure of the caretaker government as evidenced by the past where the Rupee depreciated by more than 21% from when the PML-N completed its previous four-year constitutional term.
It was also found that business activity has been slowed down and FPI has been withdrawn and investors (foreign and local) have waited for months to know the policies of the incoming new government for different business sectors, which worsened the economic situation. Pakistan currently needs foreign remittances, business continuity, in addition to reduced spending and increased exports to successfully emerge from this economic meltdown that is accumulating around the world. whole and to avoid higher inflationary pressure.
The current Prime Minister of Pakistan, who was granted constitutional confidence by the majority in the National Assembly, fortunately holds a demonstrable track record and a reputation as a "strong administrator and actor". He has been seen doing everything possible from the first day of his mandate to relieve people and work with teams to obtain financial assistance from all available sources, including holding discussions with multilateral donors and friendly countries like Saudi Arabia and China.
Our Ministry of Finance also plans to further negotiate the rescheduling of some debt repayments, to take out new commercial loans at easy market conditions and to issue new foreign currency bonds to help Pakistan and Pakistanis breathe a little.
Pakistan should learn from the mistakes of other countries and assess the problems faced by cash-strapped Sri Lanka, despite being in a stronger economic position than Pakistan a few years ago.
No country will come to help us if we don't discipline ourselves and help each other. Even God helps those who help themselves.
---
The author is an expert in governance and sustainability